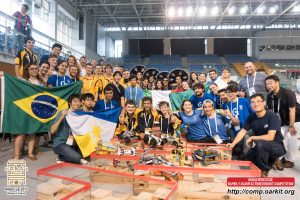 The Rapidly Manufactured Robot Challenge (RMRC) is part of RoboCupRescue Robot competition. RMRC promotes the development of low cost, rapidly manufacturable small (30 cm width) robots and robotic components that enable responders to more safely and effectively perform hazardous mission tasks.
3D printing, laser cutting and low cost, common sensors, computation and other electronics lower the barrier of entry.
Students from high school through to graduate students and early career researchers compete against the same challenges.
For more information, please visit the Rapidly Manufactured Robot Challenge website.
updated: 24-may-2018/eguchi