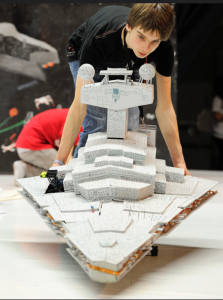 RoboCupJunior OnStage invites teams to design, build and program creative and autonomous physical robots. The
objective is to create either a live or streamed, robotic performance of 1 to 2 minutes, that uses a wide variety of
technology to engage an audience. This includes a range of possible performances, such as dance, storytelling, theatre,
or art installations. The performance may involve music, but this is optional. Teams are encouraged to be creative, innovative, and entertaining, in both the design of the robots and in the design of
the overall performance.
All team members must be 14 to 19-year-old (as of 1st of July).
All teams are judged in the following areas: a Technical Description Paper (TPD), Technical Demonstration, Technical Interview, and an OnStage Performance.
ROBOCUPJUNIOR 2023 ONSTAGE DRAFT RULES
ROBOCUPJUNIOR 2023 ONSTAGE DRAFT SCORESHEETS
updated: 3-october-2022
Please share your questions and comments on our Forum: https://junior.forum.robocup.org/.